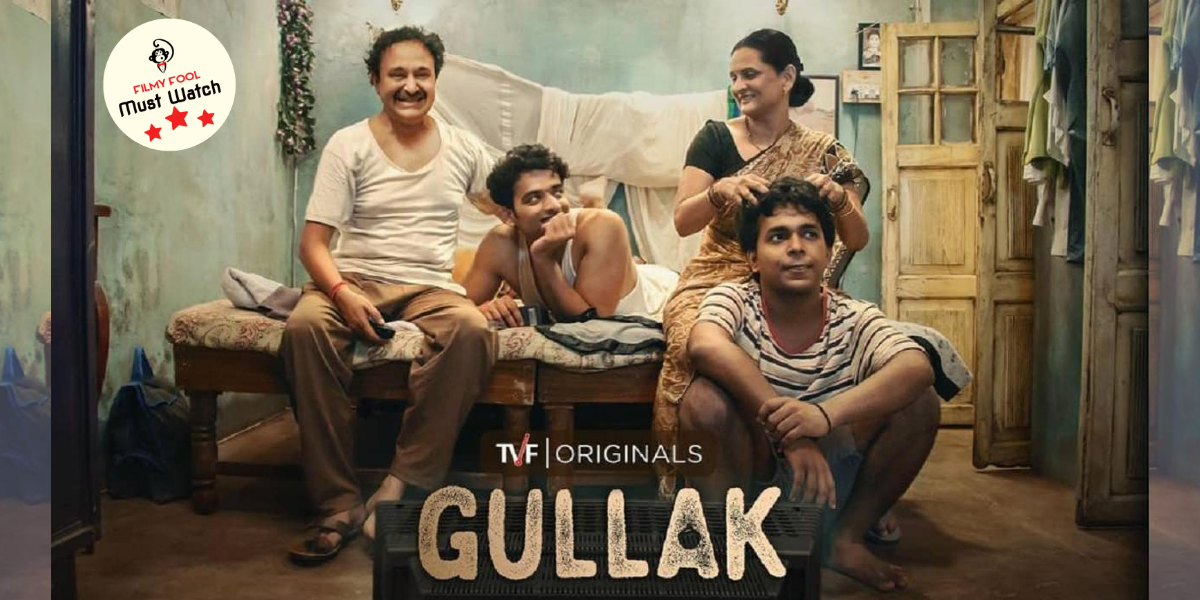 It is both fortunate and unfortunate that there has been an exponential rise in content. Not too long ago, when there was no Indian content other than the sappy Balaji Telefilm shows, we used to hunt for torrents of our favorite shows from the U.S. That changed dramatically with Netflix coming to India. Others followed suit so as to not miss the bus. Today, with so many platforms and so much content, the problem has only changed shape. We are surrounded by content, but finding what's right for you is a big challenge. To be fair, this is a good problem to have. I would rather have too many choices rather than no choice at all. 
However, the issue of discovery also means that sometimes, there are gems that get completely overlooked. The best example is this little gem of a show created by TVF on SonyLiv called Gullak. On one side, you have shows like Pataal Lok, Family Man, Sacred Games, and Mirzapur that are talked about for having an amazing cast or for being produced/directed by biggies of Bollywood. On the other, we have small-scale shows like Scam 1992 and Panchayat that are topnotch and promoted heavily. Shows like Gullak sit somewhere in the middle and hence go relatively unnoticed. It is brilliant in so many ways but it neither streams on a platform that pumps money like Netflix or Amazon and nor does it have a huge star cast. Gullak stars Jameel Khan, Geetanjali Kulkarni as the parents along with Vaibhav Raj Gupta (Anand/Annu) and Harsh Mayar (Aman) playing their kids. 
It is a fantastic slice-of-life series that goes a couple of notches above TVF's previous - Yeh Meri Family. The show has a whole bunch of high points that just blew me away. I loved it so much that I rewatched both seasons just two days after I finished watching them the first time. The characters in Gullak are relatable and adorable. You start enjoying the family dynamics and banter right from the start and by the end of season 2, you will end up as huge fans of some of the characters for sure. I felt like hanging out with them, chatting with them, sitting n sipping tea with them, planning my home renovation with them, and even catching up with them in the street for my daily dose of gossip.
The writing is phenomenal as it stays perfectly in sync with the setting & characters without a false note. The situations are real and the writing makes them heartfelt and hilarious. Gullak made me smile, made me laugh, and even got me to shed a tear or two, especially the final two episodes of season 2. I cracked up on multiple occasions but my favorites were - "Paul ka hauaa maarna humne sikhaya" and every time Annu said "Aapko nahin pata?".
Performances from veterans Jameel and Geetanjali are delightful. They are perfectly balanced as Papa & Mummy. Papa is a little too soft on Annu and Mummy is a little too hard. It is the other way around with the younger sibling. Like I said - perfectly balanced. The performances of the kids are even better and in fact the biggest highlight of Gullak, Harsh Mayar does a fabulous job of being the youngest member of the family. The only one who tops this is his elder brother Annu played by Vaibhav Raj Gupta' He is the real find for me even though he starts off slow. Season 1 has him doing a great job but in season 2 he takes his performance and the show to another level. What he delivers is nothing short of exceptional and everyone who watches the show will take note of his talent. The last 2 episodes of season 2 are mind-blowing and Vaibhav's performance makes you want to stand up and applaud.
Gullak is a show that has immense repeat value. It is a show that needs to be talked about and appreciated more and more. That's the only way we will continue to get quality content and not just overhyped fluff backed by a big star, case in point - Aarya (for the record, I hated the show and every character & performance in it except Sushmita).
You can stream Gullak on SonyLiv