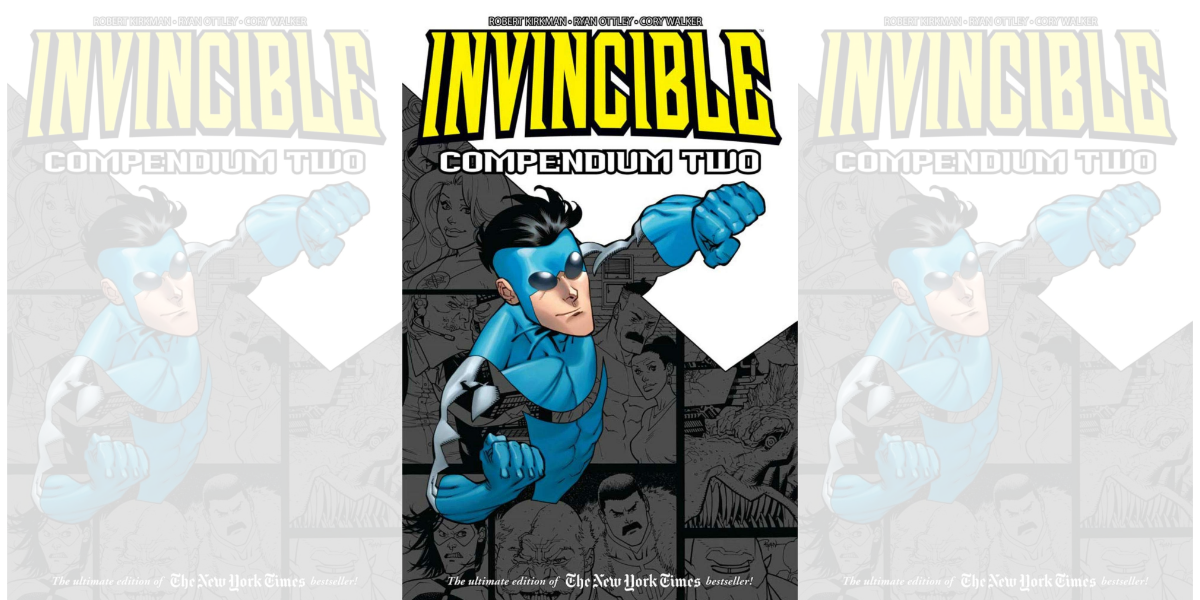 Phew! 
That was my reaction as I turned the last page on the 2nd part of this incredible collection. I have had the most amazing time reading this and can safely say that Invincible Compendium 2 is almost as good as the first - A reaction I thought impossible (I wrote about the Invincible storyline, collected editions and part 1 reaction in my review of Compendium 1) 
Mark Grayson aka Invincible has been through a lot. Yet, it is not even close to the end. Mark once again deals with aliens, and romance, and aliens and his father, aliens and family and on it goes. You get the drift. The tropes are not as fresh, and it starts feel repetitive at times, but Invincible Compendium 2 hits it out of the park often enough to earn the necessary accolades. 
What I loved in this edition was the support story arc of Robot and Monster Girl. It was complex and extremely well written. I wish there were another couple of strong support arcs but no other stayed with me like this one. Additionally, I felt that the humour quotient was considerably less in this one. I get that the story has moved on from high-school and stakes are at an all time high and humour could seem forced. However, in the first set of issues, humour was so naturally integrated in the narrative that it never felt unnecessary. It was always a part of what Invincible was all about. 
The biggest highlight for me from Invincible Compendium 2 is how it handles shades of grey. I don't think I will come across a better piece of narrative where characters move across Yin and Yang so effortlessly. It is beautiful to read how a character changes his stance when his point of view shifts. Add to this, Cecil's backstory which was the cornerstone for the entire Yin and Yang conversation was extremely well timed. I loved getting to know this character a bit more and look forward to some more pieces of his backstory in the final collection. 
As with Compendium 1, every issue in Compendium 2 is crafted to perfection. The panels depicting action sequences are breathtaking and the double spreads are simply jaw dropping. If you read through a few issues, it would be natural to want to take a breather. What adds to this is the way violence is crafted in Invincible. Even though this is a static medium, Ryan Otley and Cory Walker infuse so much life into every panel and use the blood spatter effect masterfully. I actually flinched a couple of times as I read through some of the more intense and graphic fights. 
A totally unexpected and delightful aspect of Invincible compendium 2 will always be the depiction of Atom Eve in the latter half. It challenges so many stereotypes against women, not just across the entire superhero fraternity but also in the real world. As a reader, it made me question the set image I have of female superheroes and how that has been created over years of exposure to comics and films. Kudos to Robert Kirkman for such fantastic writing. 
It truly is a privilege to have had the opportunity to read the iconic comic that will no doubt go down in history as one of the greatest ever. 
Support local bookstores. Buy your books here. Use code: filmyfool and get an exclusive discount.