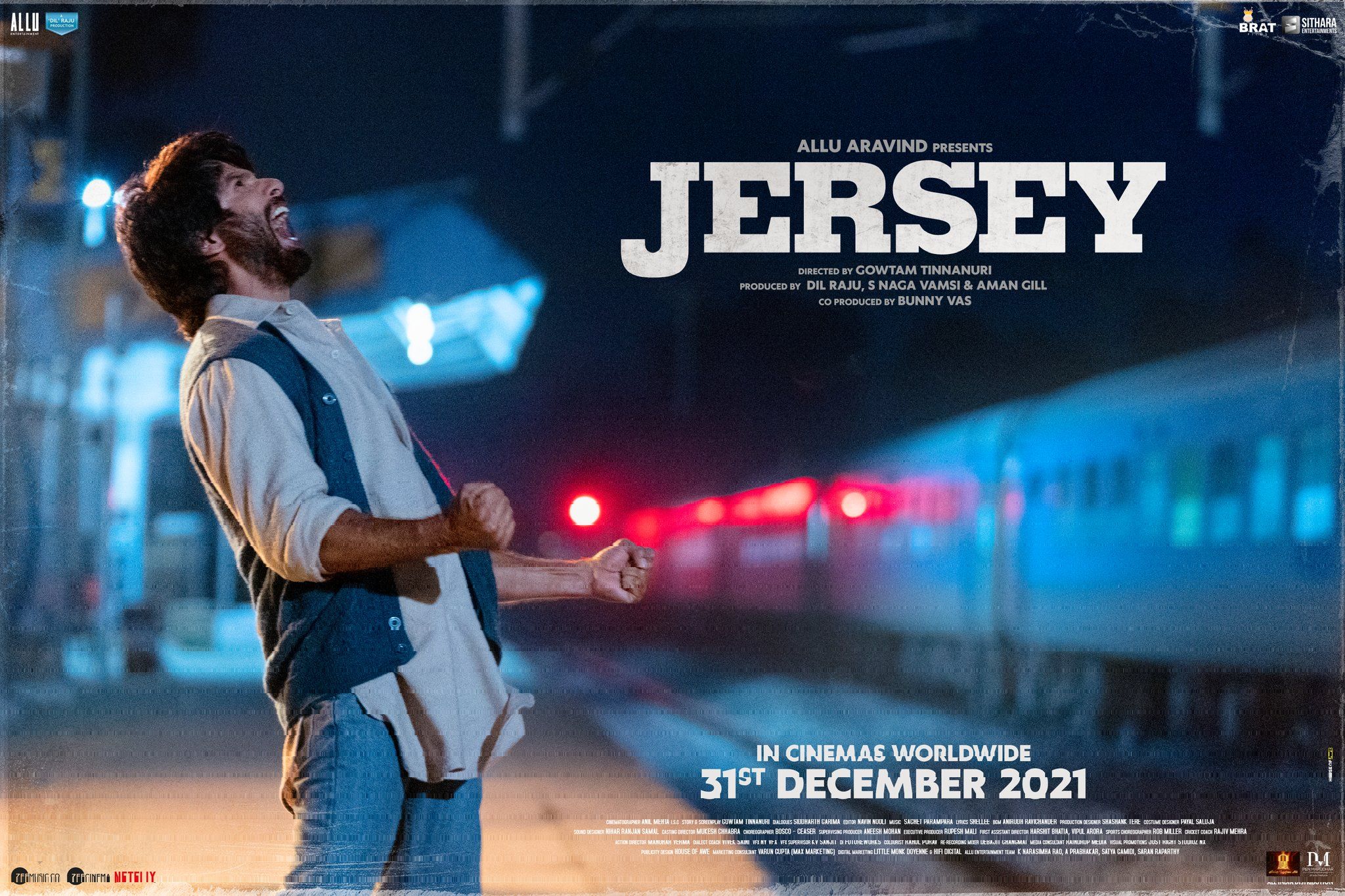 After being postponed on numerous occasions (covid, lack of sufficient screens), Jersey (2022), starring Shahid Kapoor, finally hit theatres this Friday. The makers of Jersey (2022) wanted to release the film in theatres and not on OTT as they felt it was best suited for the big screen. I am a little biased on this topic, but I strongly feel that they were right. As much as I love the convenience and choices offered by OTT, I always prefer watching films in the cinema. I am someone who watches films for much more than just entertainment. When I watch a film, I am looking to get lost in the story, to see through the eyes of the director, to fall in love with a character, and to jump at the falling of a random object on screen. At home, doing all this is not impossible but extremely difficult, with phone calls, door bells and what not. In short, Jersey is absolutely worth watching in the theatres.
A remake of a 2019 Telugu film of the same name, Jersey (2022) is the story of Arjun Talwar, a talented but unsuccessful cricketer who decides to go back to professional cricket at the age of 36. Shahid Kapoor plays Arjun Talwar and is almost flawless in his portrayal of this beaten down cricketer. The writing on this character is layered, and Shahid puts in the effort to justify it. The scenes with his son, Kittu, are beautiful and full of warmth. On more than one occasion, I couldn't help but tear up. Shahid is brilliant as the caring and loveable father who would move the world for his son. This relationship is pivotal to the film, and only because the film aces this, does Arjun's helplessness later on feel genuine and heartfelt.
Shahid is able to dig deep and bring out the image of a man who can't meet his own eyes and is resigned to his quiet desperation. The layers don't end here. If on one hand Shahid is a broken shell of a man, on the other hand, he is something completely different. Shahid gives us a great example of how he changes his body language in order to vary his character. As a swashbuckling batsman from Punjab, Shahid looks broad shouldered and stands tall against the fastest and tallest bowlers of his time. When he is walking on to the field, extending his arm and eyeing his bat, his presence on the cricket field seems no less than that of Thor on the battlefield with his hammer (Mjollnir).
Yes, Shahid is fantastic. This genre is his strength, and after Haider, Udta Punjab, and Kabir Singh, Jersey (2022) is yet another example of his talent. But Jersey is an even better example of something else. It is an opportunity to watch Shahid at one of his finest, but a bigger opportunity to watch his father, Pankaj Kapur, blow everything to pieces in one-fourth of the screen time. Pankaj Kapur plays Arjun's cricket coach and mentor, guiding him through his early days up to the Ranji and Duleep trophies. All his scenes are like magic because he does things that don't occur to you till you see them. Sometimes it's not even after that.
In his first scene, Shahid is sitting on the steps watching the practice going on in the stadium. Pankaj Kapur calls out to him and then, he does not walk to him as someone of his age would. He hops across the steps quickly to reach Shahid, as a cricket coach would. The modulation and command he showcases on his voice and body over the course of the film is just breathtaking. The last scene has him as a 90 year old man who is walking slowly and slurring his words. He does not stop there. He interjects a conversation between Shahid's son and a third person, telling the person off with the forced authority and blatant obliviousness that only grandparents can have. Every scene of his is sheer class and I can go on describing every little thing. (Honestly, I feel embarrassed and inadequate just writing about Pankaj Kapur because he is an institution in himself.)
Mrunal Thakur plays Arjun's wife, Vidya, and is very good as the other side of the coin. Her frustrations and insecurities are clear and Mrunal surfaces them with ease. She is a strong actor and I hope she gets the roles that match her potential. Rohit Kamra plays Kittu and is both innocent and delightful. The music of the film by Sanchet-Parampara is contextual and lifts the film further. I enjoyed all the songs and some of the lyrics hit hard as well. Will be listening to the songs again for sure. Another aspect of the film that I really enjoyed was the cinematography of the cricket scenes. This is an aspect that none of the films till now have gotten right. In most films, the cricketing shots are shown from weird angles to make them seem believable and authentic. On top of that, the shots look heavily doctored. Jersey (2022) does a much better job at this and gives us genuine cricket footage for the most part. I was pleasantly surprised at how well the clips of slip catching and slide fielding were shot.
In recent times, we have had films that depend heavily on external aspects of film making - Special Effects (RRR, KGF 2), Over the Top Action (Sooryavanshi), Make-up & Physical Appearance (83, Toofan). Jersey offers us something that is rare - Impeccable acting (legend and disciple), strong storytelling, and a whole lot of heart. I don't mean to say that this is superior to the others I have mentioned. Just like so many other people, I too loved some of them. But, I hope Jersey is also the kind of film that a lot of people will love and admire. I certainly did and highly recommend it.
p.s. If ever in life, you have a chance to watch Pankaj Kapur's solo play/narration of his novella, Dopehri, do not miss it for anything. I had the privilege of seeing him perform at Siri Fort Auditorium a few years back. It will go down as one of the most memorable times of my life.