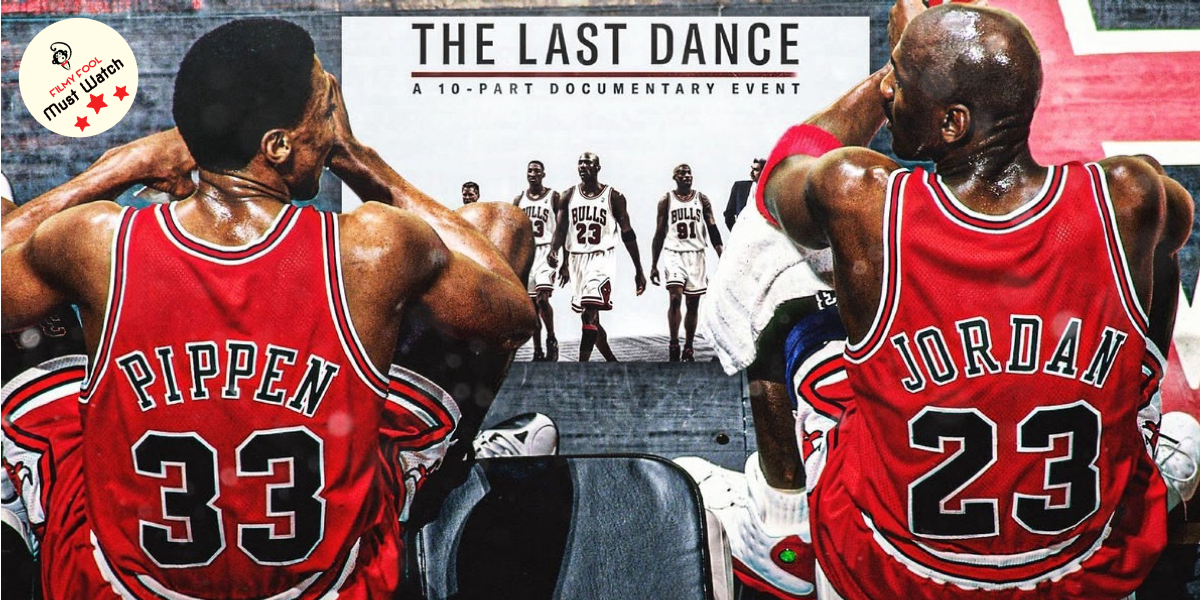 Sports Documentaries are not only meant for people who understand a particular sport or enthusiasts in general. A good sports documentary can be relished by anyone who appreciates an engaging narrative, edge of the seat action, the mystery of who will come out on top, or the drama behind the scenes. The Last Dance is not a good sports documentary but a great one, because it is not just informational but also inspirational in equal measure. This 10 part series created by ESPN offers so much that I would recommend each one to binge-watch this right away. There is an underdog story that turns into a dream run that finally becomes a phenomenon as Chicago Bulls become world champions not once, not twice but an insurmountable 6 times in 8 years (1991 to 1998). There is also a coming of age story of the most incredible athlete the world has ever seen, who also happens to be the greatest superstar in the world of sport.
The Last Dance is a sports documentary on the Chicago Bulls and Michael Jordan as they put up their final title defence in 97-98 NBA championship. It is extremely well made, combining actual game footage with candid interviews that contextualise not just the game but deeper motivation, the unsaid battles and the era overall. The show brings forth golden information about the players, coaches, and management, making for extremely rich and captivating viewing. Fans of the sport may know a lot of this already, but when it all comes together on screen at the same time, it can be pretty amazing, even for the 'know-it-all' fans.
Each of the 10 episodes is almost self-contained, bringing out one aspect/period/season of the team or the key players. Since the show is set alongside the title defence of 97-98, a large portion of the narrative takes place in the past. There are dedicated episodes for each of the 6 title-winning seasons as well as player origins. It was also fascinating to see players talk about what was going on in their heads at a certain point in time or discussing some of the rivalries as if they happened last night.
The biggest highlight of the show (apart from the fact that they won 6 NBA championships in 8 years) is Michael Jordan. There is plenty of Jordan in every episode and when you see the show, you will realise why. It is amazing to see his hunger to continuously compete with the best and go past them. One of the most fascinating things for me was Jordan's tendency to spark non-existent rivalries in his head to keep himself driven. The fact that he imagined an entire conversation with a player from another team, just to motivate himself is so extraordinary. It is not that Jordan was in denial, be it his overbearing competitive nature, or his love for gambling, he owned everything, which was great to see. Though there is a lot of evidence throughout the show to prove to anyone that he was, in fact, the greatest athlete ever, what moved me was his relentless hard work. He was never satisfied by being 'one of the best', he had to be 'the best'.
The thing that is really astounding is this: Most of Jordan's career was between 1984 to 1998. The World Wide Web was made available in 1993, Yahoo was founded in 1994, Google in Sep 1998 (the time I was still playing Dangerous Dave on an MS-DOS PC). Jordan became a basketball star, sporting icon, a symbol for American culture, a role model for young African Americans. All this happened at a global scale, at a time when dial-up Internet was in a handful of homes and with no social media. In one of Jordan's earliest interviews after being drafted into the NBA to play for the Bulls, he talked about how he would have wanted the Bulls to become one of the greats like the Celtics and the Lakers and he is hoping to help them get there. He ended up doing so much more and that's why Jordan is the greatest. The magnitude of his impact could never be curtailed by boundaries of a nation, culture, ethnicity or race. He was, and always will be, for all of us.