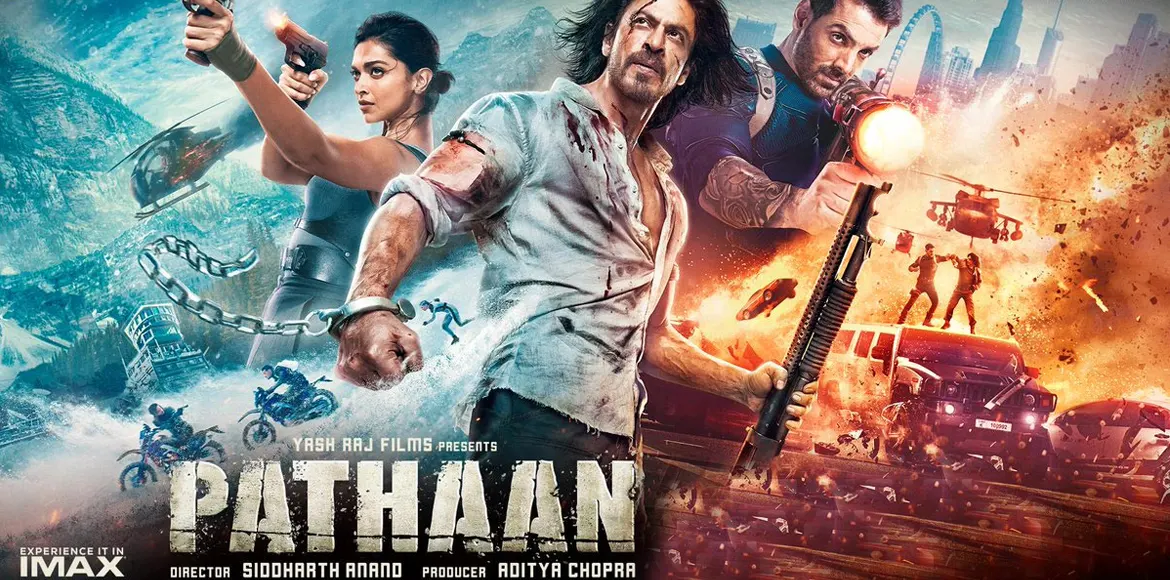 Transcript
Overview
In one line, Pathaan felt like an overlong Thums Up commercial. Yes, they are exciting and exhilarating, but you can't really enjoy it for two and a half hours, right? So I have mixed feelings about Pathaan and I'm happy about that. When the film was announced I was sceptical, but I can safely say that it's a decent film. There are a lot of great moments. It's a very good comeback for Shahrukh Khan, there is no doubt about that. Pathan is greatly watchable if you are a Shahrukh Khan fan. If you're not, then you can listen to this review rather closely and figure out whether you still want to go ahead and watch this film or not.
Let's get one thing straight, Pathaan is a crowd-pleaser. It has not been made to gain critical acclaim. It has been made for one and one thing only, frivolous fun. That's what Pathaan is all about and if you can be on board with that, one good reason for you to go ahead and watch this film.
Plot
I'm gonna try my best to not give out any spoilers. If you spend the past year being kidnapped or living in a hole or a cave without any internet connectivity, then let me tell you, SRK plays Pathaan, who is a spy for the Indian government and creates this special unit called joker that's J-O-C-R, Joint Operations and ...not that important.
Action
Siddharth Anand, the director of Pathaan had also directed War and Bang Bang in the past and brings a lot of that flavour into Pathaan. But he goes the whole hog. Every idea, every action sequence that he could think of has been put in here and Shahrukh Khan is at the centre of all of it. There is a fight sequence that is in traffic, on top of a truck, in a train, in a helicopter, in a plane and also a jet pack chase sequence. You can figure out a lot of different inspiration elements that have been borrowed from different films across the board. The winter soldier, The Dark Knight, or The Fast and The Furious. What started off with Ek Tha Tiger and carried on in War is also seen here. The hand-to-hand combat is extremely well choreographed. Siddharth Anand once again uses swift camera movements to create sleek action sequences. The problem with most of these action sequences was that they were over long. I got tired of every action sequence before it ended.
Music & Background Score
The background score is decent and keeps you hooked towards going on in front of you, never really overpowers that. Case in point KGF2. But the music is just so average. 
Spy Universe
While a large portion of Pathaan is action sequences, there are little moments that I tipped my imaginary hat to. Very very clever references to the spy universe that Yash Raj has created. I am talking about Ek Tha Tiger and Tiger Zinda Hai, so Tiger and Zoya the characters, and there are references to both of them. There are also references to war and Hrithik's character Kabir. When the film starts along with the YRF logo you can clearly see the Spy universe logo coming alongside it. So it's established that there is this spy universe and you have agents from different agencies who will eventually come together at some point creating an Avengers Assemble sort of a moment. We have seen that go slightly wrong with Rohit Shetty's Suryavanshi and I have to say it is done in a much better manner in this case.
Meta References
Apart from the references to the other films of the spy universe, what was totally surprising were the meta moments that were built into this film. There are moments that give a nod to films like Darr and Main Hoon Na, both of which were iconic films. Again they were very well placed. Minimal and to the point, and that's what I loved about these.
Storytelling
Coming to the overall plot and the storytelling. Surprisingly there is a decently written story here. You don't get a standard unilateral screenplay. There is considerable layering and different threads that need to be untangled for you to really understand what's going on. So, for the first 40 odd minutes, you are trying to understand the different threads and how they are connected. Unfortunately, the long-drawn action sequences kill the pace of this narrative. So you don't really feel the impact of the layering that you would have otherwise.
Performances
Now coming to the performances. Let's start with the obvious. SRK is great as Pathaan. Don't think you needed a performance like Swadesh or Raaes. What you get is largely SRK 2.0 or should I say 3.0. But he's never had a problem in holding your attention when he's onscreen, he's just got this in built charisma in him. Let me be clear, i'm not really a SRK fanatic, I'm not even a fan. But yes, I understand what he brings to films, what he brings to the industry. Great that he's got Pathaan as his comeback vehicle because he deserved it. Deepika is decent, she doesn't really have a lot to do. There are a couple of action sequences that she does very convincingly. I think it's about time that now that we have Katrina and now Deepika I'd expect more meatier portions being written for them in future films. 
I've spoken about Shahrukh, I've spoken about Deepika, but the best performances of Pathaan surprisingly come from John Abraham and Dimple Kapadia. John is so natural so charismatic as the psychopath villain. John plays Jim, who's a mercenary for hire and he'd do anything for money, or so you think. Jim has a dark past which turned him into a psychopath and that also comes across as part of the story. But what I loved so much about this character was that John so much at ease in every everything that he was doing. Typical one-liners that villains really rattle off, they weren't just one-liners here. Coming from John, you could actually relate to them and he delivered them so convincingly. Huge points to John for pulling this off. I really enjoyed his work here. and the other one like I said was Dimple Kapadia. So natural in this role. Even with other stalwarts like Shahrukh Khan and Ashutosh Rana, she was just holding her own.
Special Appearance
Coming to the special appearance. It is one of the most fun moments of the film. I think the scene where the roof of the train comes down and there is a scarf that gets dropped. Such a treat to watch. I really enjoyed that little portion. The sequence in the train was possibly the best action sequence that we get throughout the film.
Post Credit Scene
Also, another point for everyone to note, there is an after-credit sequence so stay tuned for that it is really funny, it is really quirky. A lot of meta references there as well.
Final Thoughts
Overall what's the verdict should you watch it or should you not? If you want to watch Pathaan, it's meant to be watched in the theatres. Just the nature of the visuals is such that you would not enjoy them at home. In my book, it is watchable for sure. If not for the sheer audacity of Siddharth Anand and what he's trying to pull off in one single film, watch it for the earnest performances from John and Dimple Kapadia, if not for that, just watch it for SRK being back on the big screen. He's a treat to watch. and that's my final take on Pathaan. If you do decide to go and watch it, drop in your comments and let me know what you thought of the film and whether agreed on some of these points or not. it will be fun.