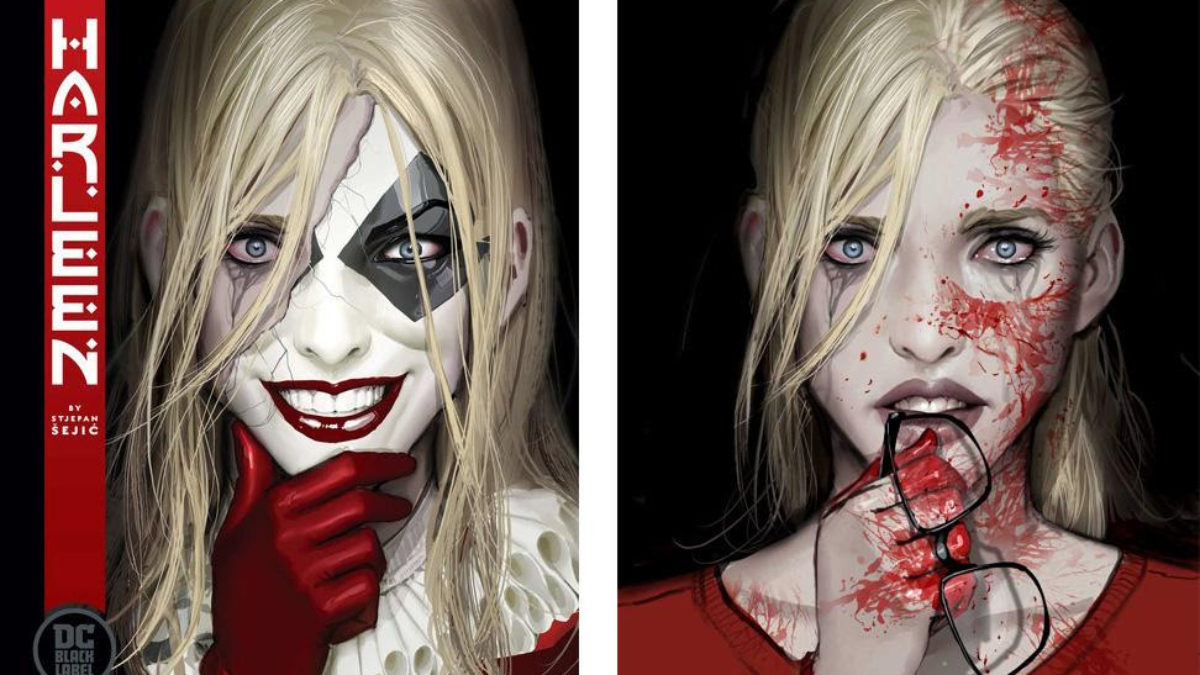 Transcript
Overview
Since 2018 DC has been using the Black Label imprint to tell gritty more dark mature stories published under this imprint is one of the most fantastic character reimagination stories that I've come across in the recent times. I'm talking about Harleen by Stjepan Sejic, that tells the origin story of Harley Quinn AKA Dr Harleen Quinzel. Let me show you, this is what I'm talking about.
Character Origin
The character may ring a few Bells even if you haven't read the comics that's because of a heartfelt crazy portrayal by Margot Robbie in the last few DC films. Originally introduced back in 1992, the character came in as a comic relief for Batman's arch nemesis The Joker. Though the plan was only one appearance, It became a recurring character and eventually Joker's sidekick and love interest. Her origin story shows her as a psychiatrist at Arkham Asylum treating the criminally insane, she falls in love with one of her patients, The Joker.
Hardcover Edition
It's not enough if I just talk about it let me just give you a sneak peek. It comes with a transparent dust jacket which once I remove, isn't this beautiful? This hardcover is a thing of beauty and this gorgeous edition holds three volumes penned and sketched by Sejic. Interestingly, Sejic has his own origin story as a colouring artist and that's not a surprise because every frame in this comic book screams of his talent. It is gorgeous it is beautiful and you can't keep your eyes off it we've just seen the cover and you can look at it for us and not get bored.
Favourite Panels
Quickly talking about my favourite panels from this comic book, The Batman and Joker fight scene right in the beginning which Harleen witnesses. I think that's beautiful. Harleen entering Arkham Asylum for the first time and her shadow depicting a future that we've all seen and known. Number three would be the 2 face agitated panels, I think they were fantastic. Sejic's Art Is Not Just cinematic and magnificent it lays the groundwork for an origin story that's dark and brooding and that is what you will get to see in this book.
The Plot
Coming to the plot, now it does stay true to the original backstory and shows Dr Harleen Quinzel joining Arkham Asylum as a psychiatrist. Over the course of the three volumes what we get to see is a beautifully constructed character arc for Dr Quinzel. The Narrative takes us through different moments in Dr Quinn's life, not always very very detailed but every little bit adds to the character makes sense in showing how Dr Quinzel spirals down and falls for Mr J The Joker and eventually ends up as a criminally insane herself. The story also sheds light on key Batman villains who are part of the Arkham Asylum, Poison Ivy, Harvey Dent. I really enjoyed Harvey's character Arc, I thought that was really well done.
Final Thoughts
The beauty of Sejic's writing coupled with his lifelike art gives us a story that is supremely relatable. Deep down you would really be able to understand the motivations of different characters and why they take the steps that they take and that is saying a lot for a comic book. What Sejic is able to do here is take the original and build on it in such a way that we get a more mature and layered perspective to a character that's one of the most iconic characters in the recent times. Overall, Harleen is a must read and I can't recommend it enough. Whether you are a new reader or old this is something that you should be reading and you should be appreciating. One last time, it's a must read go for it.