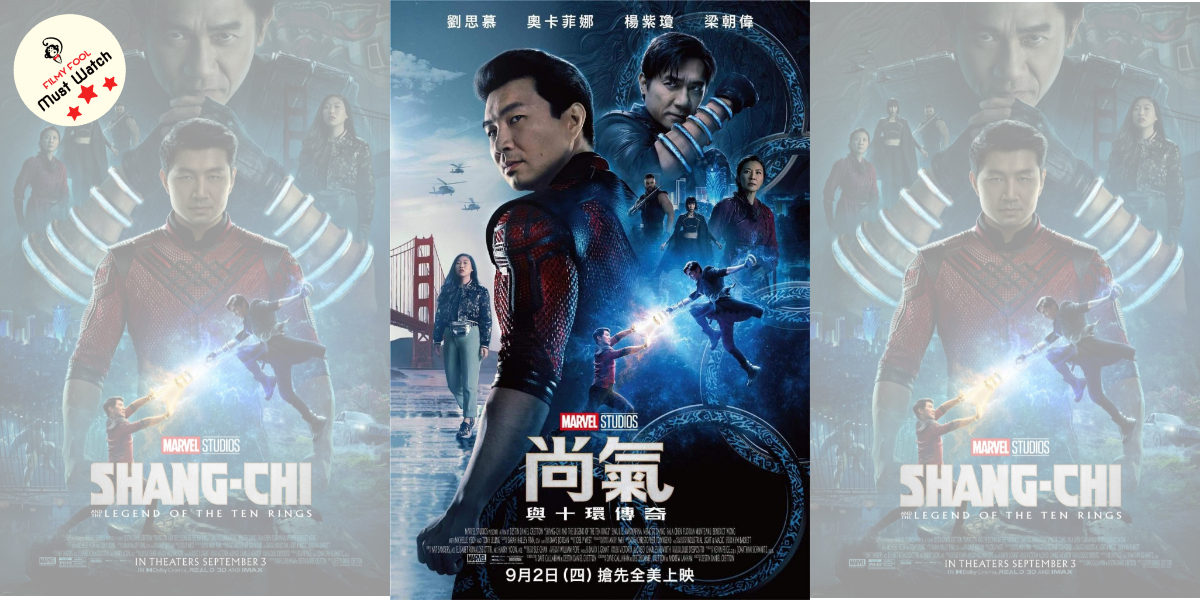 It has been 2 years since a Marvel film came out to the theatres. Black Widow was supposed to be the one to follow Endgame(2019), but sadly due to COVID restrictions, it was released on Disney+Hotstar. Naturally, I was supercharged for this but still had my fingers crossed because some moments from the trailer reminded me of The Iron Fist on Netflix. That was a horrible show, scoring below par in everything from writing to the authenticity of action sequences.
With Shang-Chi and The Legend of Ten Rings, all my doubts were put to rest from the first scene itself. My eyes stayed glued to the gigantic IMAX screen and I absent-mindedly hogged on the mega popcorn in front of me. The action sequence took my breath away since it was absolutely unique, but I am getting ahead of myself due to my excitement. Let's roll back a bit. 
Shang-Chi and the Legend of Ten Rings (SCLTR) is the origin story of Shaun aka Shang-Chi who makes his living as a car valet at a hotel and loves his job. A big credit for that goes to his best friend Katy (played hilariously by Awkwafina, she is never 'not funny'), who is impulsive and unambitious. This makes a perfect foil for Shang-Chi but I am not going into that (no spoilers). So life goes on with the parking of cars and karaoke sessions till 3 am. Then on a regular bus ride to work, all hell breaks loose, and this is not an exaggeration. I was barely getting comfortable in my seat and had not even gotten into my popcorn eating rhythm (popcorn lovers know what I am talking about) and all of a sudden, there is an unbelievable fight scene. Oh man, not again. I had decided I will talk about the action a little later. Moving on...
The screenplay is tight and only drags the slightest in the middle of the second half. I guess that was deliberately done to give us a chance to breathe between a cameo from an MCU character and a breath-caught-in-my-throat combat scene hanging from a multistory building. Damn it, please ignore. The highlight of the film is how true it stays to the Asian culture. Much like with Black Panther, SCLTR does not hold back or include American actors for the sake of it. The casting is perfect with legends like Toney Leung and Michelle Yeoh combining forces with the brilliantly cast Simu Liu (Shang Chi). The real-life trivia is the Simu had tweeted to Marvel in 2018 (screenshot below) about thinking of Shang Chi. Little did he know that he would actually get to play the lead.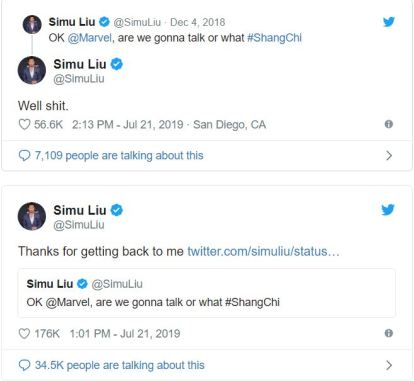 Now it's time to talk about the action. If the no. of times you are forced to shout or use expletives while watching a scene is any parameter then Shang-Chi was right up there with the very best. John Wick created a new combat style by blending hand to hand combat with close-range gun violence, Shang-Chi does something similar in the Superhero genre. It seamlessly blends Martial Arts with superpowers and the result is phenomenal. I saw the film yesterday and am already planning a repeat viewing within a week's time. The biggest reason is to get another chance to absorb the action. It was fast-paced, clever, dangerous, relentless and highly entertaining. 
Shang-Chi and the Legend of Ten Rings is, for me, without a doubt, the best origin story to come out of Marvel since Iron Man (2008). I enjoyed it more than Black Panther (though the chase sequence shot in Busan continues to be very close to my heart). So if you are looking for the next MCU film or a good entertaining film or an excellent action flick, Shang-Chi ticks all the boxes. Though I recommend that you watch it in an IMAX screen for full impact. 
p.s. There is one mid-credit scene and one post-credit scene. You should definitely stay for the mid-credit scene. The post-credit one can be missed if you are in a hurry.