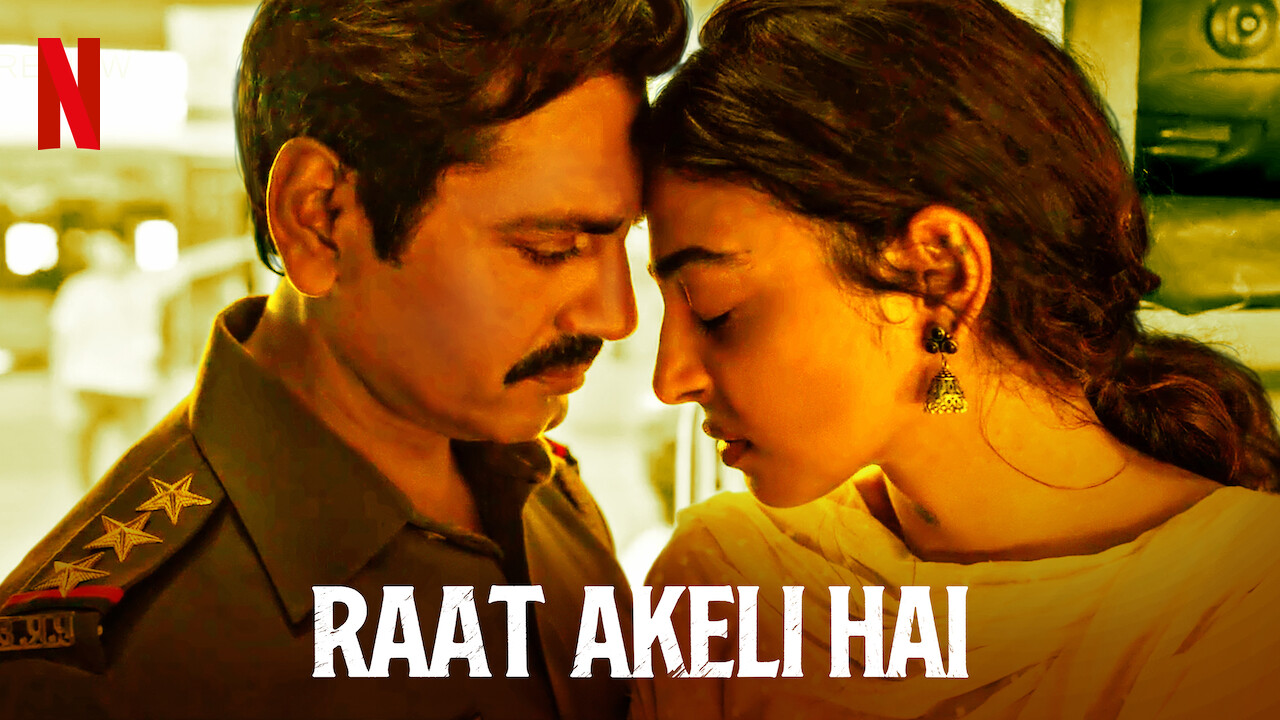 A Noir Whodunit
Raat Akeli Hai is an investigative thriller that beautifully mixes the classic 'whodunit' with noir elements. It is the debut film for Director Honey Trehan, making this the second directorial debut for a casting director this month (Dil Bechara was the first). The film stars Nawazuddin Siddiqui, playing Inspector Jatil Yadav, the unmarried cop with old school ideologies about the appropriate life partner. In true noir style, Jatil is a loner who gets smitten by the key suspect, Radha, played by Radhika Apte. Every scene they have together is oozing with unbridled chemistry and is a treat to watch.
Nawaz in top form, electric chemistry with Radhika Apte
Nawaz as Jatil is simply magnificent as he gets to put up a wide range of emotions. Honestly speaking, there are very few actors that can be comfortably imagined as the righteous cop, the bad guy, one of the henchmen, the comic relief, the silly romantic, or the annoying sidekick. Nawazuddin is special because he can pull off all these characters in a single film, all at once. Barring Nawaz, I can only think of Irrfan Khan who could do this without any trouble. In Raat Akeli Hai as well, Nawaz displays so many shades and is the biggest highlight of the film.
Adorable Ila Arun
Raat Akeli hai boasts of a very good support cast led by veterans Aditya Srivastava (Gulaal, CID), Tigmanshu Dhulia (Gangs of Wasseypur), Ila Arun (Jodha Akbar) and Padmawati Rao (Padmavat). The new age is represented by the talented Shweta Tripathi (Masaan, Laakhon Mein Ek S2) along with Shivani Raghuvanshi (Titli, Made in Heaven) and Nishant Dhahiya (Kedarnath). The unfortunate part is that the story does not offer parts that would justify the immense talent available. Out of the lot, only Ila Arun is memorable as Jatil's mother. Her relationship with Nawaz is genuine and playful.
A tribute to Agatha Christie
Debutant director Honey Trehan has a very bright future going by what he accomplishes in this film. In Raat Akeli hai, Trehan maintains a tight hold on the tone of the film by pacing it just right. At the same time, he highlights frames with different colors depending on the mood. We see red and amber when Jatil enters the murder scene, the candlelight in the darkroom when Jatil is alone with Radha, or the flaming red when Jatil visits the maid.
I saw the film and from very early on, I could sense a definite Agatha Christie vibe. This is a huge compliment for Smita Singh's screenplay because even though so many are inspired by Christie's whodunits, not everyone has the sensibilities to pull it off. Just like supernatural thrillers, the crime/whodunit thrillers are also rarely good in Bollywood. Most often, they don't come across as convincing and hence, you are never invested in the story of the characters. That is why Bulbbul was special and so is Raat Akeli Hai.
Trehan's vision and Smita's writing get the perfect medium in Pankaj Kumar's cinematography. Pankaj has a breathtaking little pedigree with films like Haider, Rangoon, and Tumbbad under his belt. He brings his impressive skill to Raat Akeli Hai by creating edgy frames that pull you into the film. You feel as if you are right there, looking over Jatil and Radha from the roof, or right behind Jatil when he is getting chased or in the room when the big reveal happens. I was invested in the story and felt like I had a stake in it too. The final reveal is big enough and justifies all that has happened. This was satisfying because so often, even in well-crafted thrillers, the big reveal is extremely underwhelming, which also nullifies all the good work done to come to that point. 
Lengthy with a contrived last half hour
Raat Akeli Hai has some drawbacks too. The length for one, running for 2.5 hours will be considered long, especially for this genre. The other would be the last 20 odd minutes. Things are believable until that point but somehow in the final portion, things happen in a somewhat convenient manner. Barring these slight misgivings, I loved everything else about Raat Akeli Hai. It would sit in my most loved Bollywood thrillers without a doubt. Highly recommended.
Raat Akeli hai released on 31st July 2020 on Netflix. Watch it here